REVIEW: Rock of Ages in Toronto is a sensational, heartfelt jukebox musical full to the brim with sex, drugs, rock 'n' roll, and dreams.
It's nothing but a good time!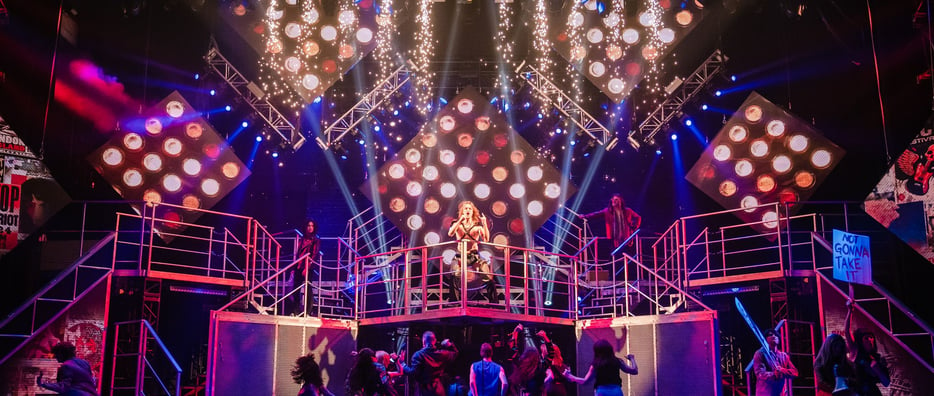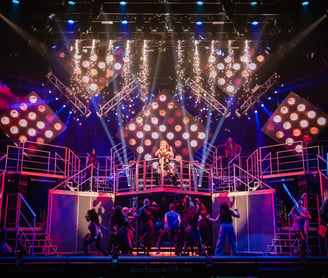 Last night, More Entertainment's production of Rock of Ages opened at Toronto's Elgin Theatre and it's nothing but a good time!
As huge fans of the show, Breaking The Curtain was honoured to attend their opening night and join in all the 80s fun.
Rock of Ages tells the story of a small-town girl, a city boy, and a rock 'n' roll romance on the Sunset Strip. But when the bar where rock reigns supreme is set to be demolished, it's up to these wannabe rockers and their band of friends to save the day – and the music.
The hit musical has a book by Chris D'Arienzo, with arrangements and orchestrations of all your favourite 80s songs from artists like Journey, Whitesnake, Twisted Sister and more by Ethan Popp.
Rock of Ages is a sensational, heartfelt jukebox musical full to the brim with sex, drugs, rock 'n' roll, and dreams. What's not to love?
This is one of my all-time favourite shows. It is a musical that is very aware of what it is and the fourth wall breaks invite the audience to be included in the fun, which makes it so clever. When it comes to jukebox musicals, critics tend to be picky, but at the end of the day, if an audience is having fun and screaming their faces off (which at Rock of Ages Toronto, they are), it's a win in my book. Some shows are just meant to be enjoyed. But if you ask me, Rock of Ages carries its own depth, leaving the audiences with the message: Don't Stop Believin'!
Director JP Gedeon understands this gem of a show and has led a production which stays true to the hearts of the characters in the story while embracing its beautiful brand of musical comedy.
The show is non-stop from the very first chord, performed by a brilliant band led by music director Mark Camilleri, accompanied by rockstar lighting and sound design by Erroll Reinhart, Narda McCarroll, and John Lott. Sean Cheesman's choreography is a non-stop delight, providing a unique combination of organic and stylized movement. From a production standpoint, this is a rock concert from start to finish.
The highlight of this production is its all-star cast! Each wonderful artist is well-suited to their role and the casting itself is a triumph.
Leading the audience through the vibrant world is Dave Comeau, who has an infectious energy as Lonny; the dramatic conjurer. Comeau is hilarious and the true frontman of the piece.
AJ Bridel was born to play Sherrie. Bridel showcases the grit in the show's cheerful ingénue. Her voice is a powerful blend of musical theatre and rock. With perfect comedic timing, she pulls out her heart and hands it to you during the Act One finale.
Jonathan Cullen is fabulously over-the-top as sleazy rockstar Stacee Jaxx. The character is the perfect characterization of a lead singer of a rock band: a talented jerk who people love to hate. Cullen is an audience favourite despite being the show's bad boy.
Other highlighted performances are Louise Camilleri as Justice Charlier; owner of the Venus Club, Steffi Didomenicantonio as Regina, Kent Sheridan as Dennis and Tyler Pearse as Franz.
If you wanna rock, you better cum on feel the noize at the Elgin Theatre now through May 20th, 2023. I know I will definitely be back over and over again!
Check out our podcast interview with Louise Camilleri!
Jonathan Cullen in Rock of Ages; photography credit Raph Nogal